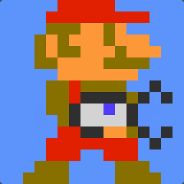 | | |
| --- | --- |
| " | PRETTY MUCH EVERYTHING BY MAURICE GUÉGAN AND IF SOMETHING ISN'T BY ME THEN IT SHOULD BE OBVIOUS OR NOBODY CARES |
–Maurice, Mari0's source code.
Maurice Guégan is the creator of all Stabyourself.net games.
His portfolio is available at guegan.de (although the "About Me" section is empty).
About Not Pacman:

About the custom levelscreen feature in Mari0: SE (http://i.imgur.com/X3jZP.png)
"
All these hipsters with their Photostore and whatnot.
I stay real with paint.

Edit:

I made a wallpaper out of that image for everyone
http://i.imgur.com/iD6z5.jpg
I added a lens flare because why no

About how health should be handled in Mari0:
"
Maybe I should make the screen all red jelly if you get hit,
but have your health regenerate so fast that it's impossible to lose.
Oh and there's a scripted sequence every 30 seconds with a checkpoint that
takes away any sort of suspense. And I'll release 3 DLC maps for $15.
About Turrets:
"
http://i.imgur.com/4TZjB.gif
Too lazy to do proper bullet graphic and the caution animation because this
won't be in the game anyway.
I hate puzzles that involve turrets, and putting turrets in Mari0 would make people
use them in their puzzles.
| | |
| --- | --- |
| " | Thanks you convinced me now turrets are totally fun and will be added |