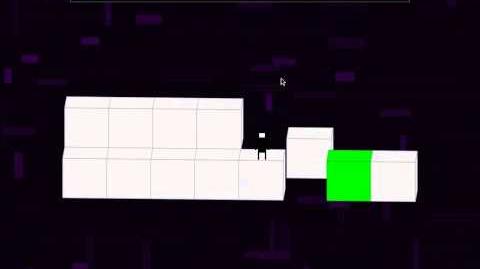 Ortho robot is another open source game by Maurice Guegen, with level design help from Sašo. Using the illusionary engine, it is by far one of the most polished games of the bunch, and the first game to include an original character, setting, etc. followed arguably by Trosh: The Movie: The Game.
Description on Stabyourself.net
Edit
Literally bridging the gap between 2D and 3D games, Ortho Robot is a perspective based puzzle game, where you flatten the view to move across gaps. Your objective is to reach the ending green block (either by standing directly on it or standing on it in relative space). For some extra challenge, try to collect all coins and perfect your time, steps and number of warps.
Zero copyright infringement: Really!
16 levels: Each more frustrating than the last!
Mind bending space warping: Not for the light hearted
It is a perspective based puzzle game. You play as a robot that can warp the camera in order to reach and stand on the green goal blocks to beat the level, collecting coins along the way.
The game's levels also have challenges for minimum time, minimum warps, and minimum steps. They do not need to all be achieved in the same playthrough in order to count, and, in fact, such a feat would be impossible. Upon the completion of all three challenges and the collection of all coins, a gold star will proudly display for that level.
All the levels in the game can be found here.
It was released in November 27th 2011
The game's later levels were made by Sašo using Minecraft, as it served as a useful visualization for cubes in 3D space.